Our mission
EQUALLY IMPORTANT, EQUALLY DIFFERENT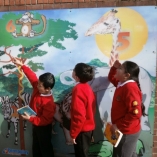 We aim to maintain a happy, caring and supportive environment in which every child feels valued, confident and self-motivated. Our climate is one of learning - our children thrive on this.

Our children are all provided with challenging, stimulating, worthwhile and enjoyable experiences, with many focusing on the locality of the school within North Yorkshire, and the North of England, as well as having an appreciation of the wider society across the world.

Our children are challenged to make continual improvements in the basic skills of reading, writing and mathematics and recognise that these are key features for successful learning.

We strive to promote:
A concern for every child where they are valued as individuals.
The highest standards that each child is capable of.
A high expectation in behaviour, self-discipline and emotional well-being.
A mutual respect and understanding for each member of our school community through consideration, courtesy and good manners.
A love of learning through a rich and vibrant curriculum linked to real life experiences. 
At our school the children will:
Learn and build upon skills and knowledge across a varied and interesting curriculum.
Experience teaching that is at least good.
Cooperate with others as partners in their learning.
Use their skills, talents and knowledge to make aspirational choices.
Tackle new challenges with enthusiasm and determination.
Enjoy physical activity and a healthy lifestyle recognising that this is important for their physical and mental well-being.
Learn and apply the basic skills of reading, writing and maths across the curriculum. 
Understand their own culture and the culture of others within a multicultural society.
As a school we will:
Recognise each child as an unique individual.
Celebrate the achievements of all children, promoting their thirst to succeed.
Continue to work in partnership with our parents and the wider community so that pupils are well placed for their next phase of education. 
Ensure parents are an integral part to the Le Cateau family and that they play a pivotal role in their child's education.