Our mission
EQUALLY IMPORTANT, EQUALLY DIFFERENT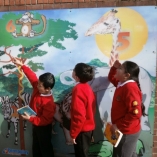 We aim to maintain a happy, caring and supportive environment in which every child feels valued, confident and self-motivated. Our climate is one of learning - our children thrive on this.

Our children are all provided with challenging, stimulating, worthwhile and enjoyable experiences, with many focusing on the locality of the school within North Yorkshire, and the North of England, as well as having an appreciation of the wider society across the world.

Our children are challenged to make continual improvements in the basic skills of English and Mathematics.

We strive to promote:

A concern for every child.
The highest standards that each child is capable of.
A high expectation in behaviour and self-discipline.
A mutual respect for each member of our school community through consideration, courtesy and good manners.
At our school the children will:

Learn new skills across a varied and interesting curriculum.
Experience good teaching.
Cooperate with others as partners in their learning.
Aim high with their aspirations for the future.
Tackle new challenges with enthusiasm and determination.
Enjoy physical activity and a healthy lifestyle.
Achieve their potential in the basic skills of English and Mathematics.
Understand their own culture and the culture of others within a multicultural society.
As a school we will:

Recognise each child as an unique individual.
Celebrate the achievements of all children, promoting their thirst to succeed.
Continue to work in partnership with our parents and the community.
Provide opportunity for parents to engage in the children's learning experience through consultations, workshops, presentations and information sharing.